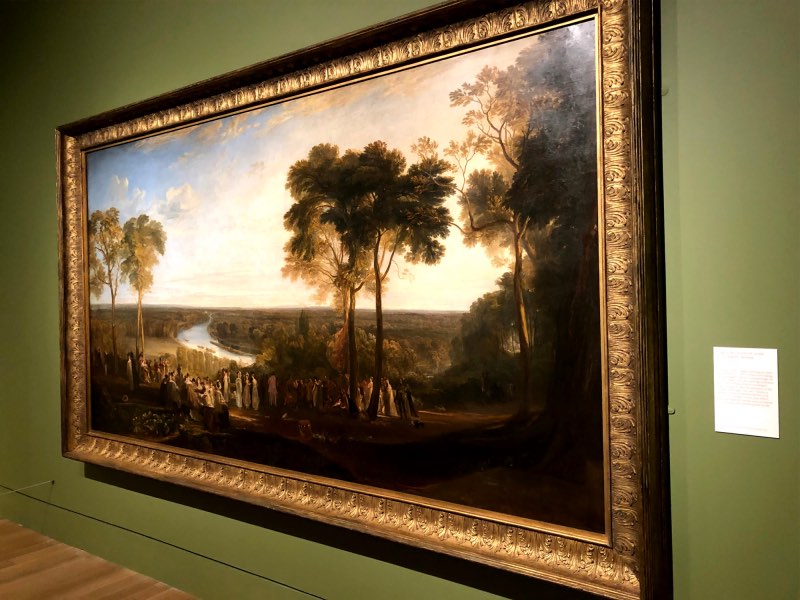 Turner's Modern World at Tate Britain, on riverside Millbank, presents a landmark exhibition dedicated to JMW Turner (1775-1851).
The painter found new ways to record great events and changes as this exhibition of 150 works shows. Although many of the works belong to the Tate and at other times can often be viewed free it is interesting to them together .
Turner lived next to the Thames at St Margarets by choice and often sailed to the estuary.
During one trip downstream he encountered HMS Téméraire. His famous The Fighting Téméraire painting of the Naval ship's final voyage ending at Rotherhithe, as reproduced on the latest twenty pound note (but little seen due to the virus), is included alongside its preparatory sketch for the very first time in an exhibition.
The Burning of the Houses of Lords and Commons 1835 is Turner's record of the disaster which changed Westminster's waterfront for ever.
This was just a decade after he had depicted a very crowded Pool of London with the steamboat Lord Melville described as a 'new and commodious Steam Packet' which ran to Calais. The exhibition has an engraving of the watercolour called The Tower of London.
The Thames above Waterloo Bridge also features the new steamboats.
Near Turner's home was Richmond Hill and its view of the Thames (as on the cover of Walking the Thames Path) which had already been reproduced by many artists.
Turner went across the river again and again to this local view which features in the exhibition as England: Richmond Hill, on the Prince Regent's Birthday (1819). It's a scene which is almost unchanged with Petersham Meadow and Ham House facing Marble Hill House across the flowing River Thames.
Turner's Modern World at Tate Britain on Millbank is open daily 10am–6pm (10pm on Friday and Saturday) until Sunday 7 March; admission £22.