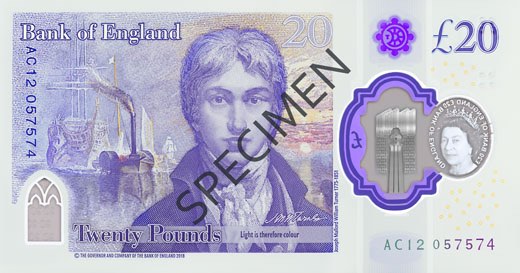 Today Thursday 20 February the new Twenty Pound bank note is available at banks and post offices.
The note features the artist JMW Turner with his most famous painting The Fighting Temeraire in the background.
He was capturing the moment the great ship, made famous by its role in the Battle of Trafalgar, was towed decommissioned upstream to Rotherhithe for breaking up.
She arrived around 2pm on Thursday 6 September 1838 on the rising spring tide having come from Sheerness and anchoring overnight off Purfleet.
Before the tide turned at Rotherhithe she was swung round to face downstream before being secured at Bull Head Yard.
The wharf was also known as Beatson's Wharf after John Beatson who ran the breaking and timber resale partnership there. It is now called Pacific Wharf and occupied by new flats.
Immediately west in the 1830s was a granary, on the site of today's Salt Quay pub, at the Surrey Basin Entrance.
The arrival of the largest ship ever to be brought so far upstream was not advertised but Beatson knew it was a big moment and would soon draw crowds. His brother William went out into the river to do a quick sketch of the Temeraire before its destruction.
This drawing can be compared with Turner's famous and more romantic record of this day. He is thought to have placed himself at Cherry Garden Pier having spotted the ship being towed upstream the day before as he travelled on one of the Margate-London steamers.
At Rotherhithe Turner would have seen two tugs at work although he depicts only one and moves the sun and time of day for greater effect.
John Beatson was churchwarden at nearby St Mary's church in Rotherhithe where now there is an altar and two chairs made from Temeraire wood.
***The Temeraire played a crucial role at the 1805 Battle of Trafalgar in protecting Nelson's HMS Victory. The 'Nelson, Navy, Nation' gallery at the National Maritime Museum in Greenwich has more information on the background; admission free.