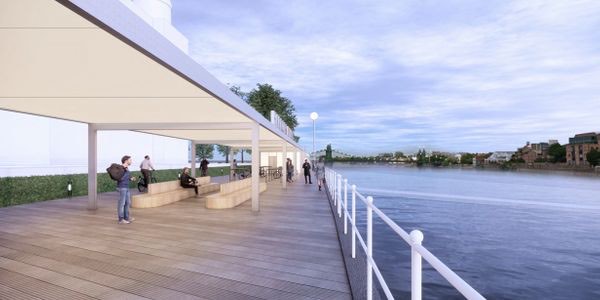 A plan to turn Harrods Wharf into a "ferry port" has been submitted for planning approval.
Wharf owner Jamie Waller is asking the London Borough of Richmond to approve a one-storey structure with "low level lighting and facilities for people of all abilities".
It is intended that "boats of all sizes" could use the wharf allowing for maybe a river bus service as well as the possible ferry service to Hammersmith on the opposite bank.
Also planned for the wharf alongside the towpath are "covered waiting areas, bike storage and washroom facilities".
The concept is to bring together walkers and commuters with maybe a cafe as a focal point.
The initiative follows the closure of nearby Hammersmith Bridge for safety reasons last summer. The earliest likely date for reopening is now 2027.
The site has been offered to the London Borough of Richmond for free "to enable a swift resolution to the Hammersmith Bridge issue".
The council, which has not responded, is expected to make the proposal public later this month and invite comments. Meanwhile a Harrods Wharf website has been launched with the first pictures.
Last week London deputy mayor for transport Heidi Alexander said that the procurement process for a ferry service could now start.
**Harrods Wharf is on the right bank downstream of Hammersmith Bridge. The Harrods building behind the wharf, resembling the Knightsbridge store in outline, is well-known as a Boat Race landmark. The former Harrods Depository, where families stored their furniture whilst serving overseas, is now part of Harrods Village.