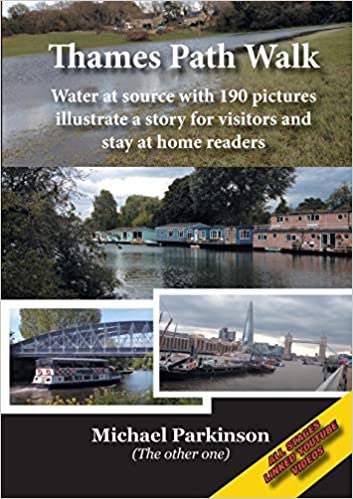 Eighty-one year old Michael Parkinson of Nottingham was one of the first to suffer from Covid in March last year.
Having recovered he published his book Thames Path Walk which he had been working on since 2014.
It began with a desire to see water at the source of the Thames in Gloucestershire.
Having seen that rare sight Michael Parkinson began walking upstream from London in small sections.
His book has 190 photographs and brief mentions of odd encounters, one with a bull, but the best aspect is stated on the cover: 'All stages linked to YouTube videos'.
These films are a welcome reminder of the route whilst we plan for when lockdown and other restrictions are fully lifted.
Those who heard Clare Balding's recent Ramblings walk from Pangbourne to Goring will find Michael's film of that section most rewarding.
Included is the toll bridge and a visit inside Whitchurch church. The Thames Path runs through the churchyard.
Michael Parkinson's project took has taken so long that the controversial fencing on this section by Coombe Park does not feature in the film.
Also, there is better news upstream: no need now to follow the main road after Inglesham as the path by the river is open.
The Thames Path is always changing as does the countryside everywhere but his films remain a window and reference.
The Thames Path Walk by Michael Parkinson (The other one) is published by Paragon (£8.99).