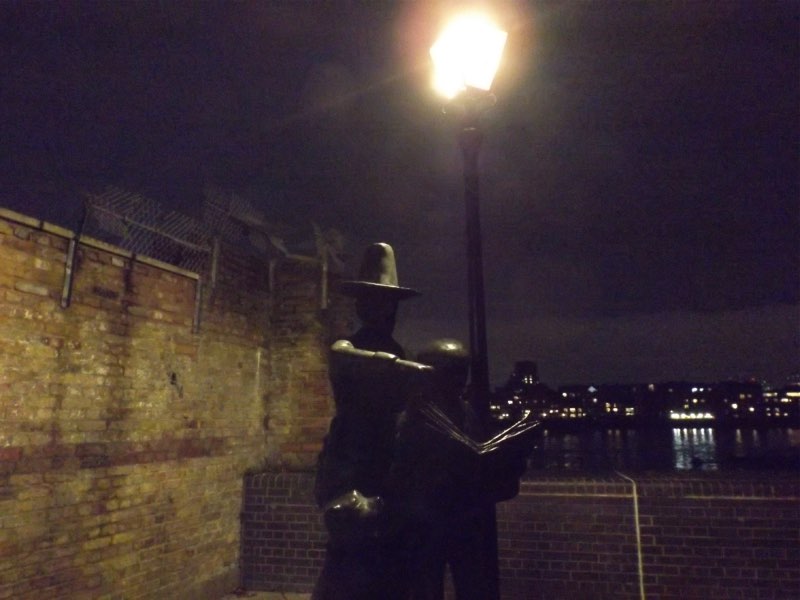 The Pilgrim Fathers sculpture at Rotherhithe has been relit by the restoration of its lamp.
The artwork, placed at the upstream end of Cumberland Wharf, is encountered by walkers as they turn inland to go through Rotherhithe village.
Rotherhithe resident Peter McClean who created the work in 1991 was present on the Thames Path just after dark last Saturday to see the integral lamp turned on.
The work is called The Sunbeam Weekly and the Pilgrim's Pocket because it depicts an open mouthed 'back from the dead' Pilgrim Father looking in astonishment over the shoulder of an early 20th-century boy reading a copy of The Sunbeam Weekly.
The two figures were originally standing under a lamp post.
This light has been replaced with a working replicas now shining ready for next year's 400th anniversary of the Pilgrim Fathers leaving Rotherhithe for America.
The light restoration is the result of pressure by local activist and historian Sheila Taylor and funding from Southwark Council.
The switch-on countdown was led by technology entrepreneur and philanthropist Michael Tobin.
The information board alongside has recently been updated following research by Bermondsey historian Debra Gosling.