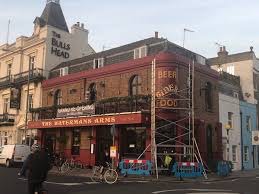 "I'm pleased to report on a pub that was turned into a restaurant and has now reverted to being a pub," writes Tony Hedger in the London Drinker magazine.
"The Watermans Arms, an ex-Watney pub next to the Bulls Head in Barnes, closed in the 1980s and became a succession of chain restaurants. It has now been reopened as a proper pub."
The pub, dating from 1850 and on the corner of Barnes High Street, faces the river.
Stone-baked pizza and home-made dishes is the food feature as well as sandwiches and jacket potatoes.