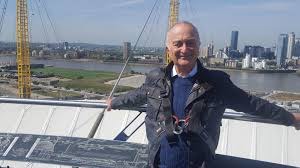 On St George's Day last year Tony Robinson was breakfasting at the Thames Head pub near the source of the River Thames.
This week the first of his four films on the river will be on Channel 5.
The opening of the series takes him from Kemble in Gloucestershire to Oxford.
In episode two he will reach London and its Docklands before exploring the rest of the tidal Thames and estuary.
The Thames: Britain's Great River With Tony Robinson is on Channel 5 on Tuesday at 8pm.