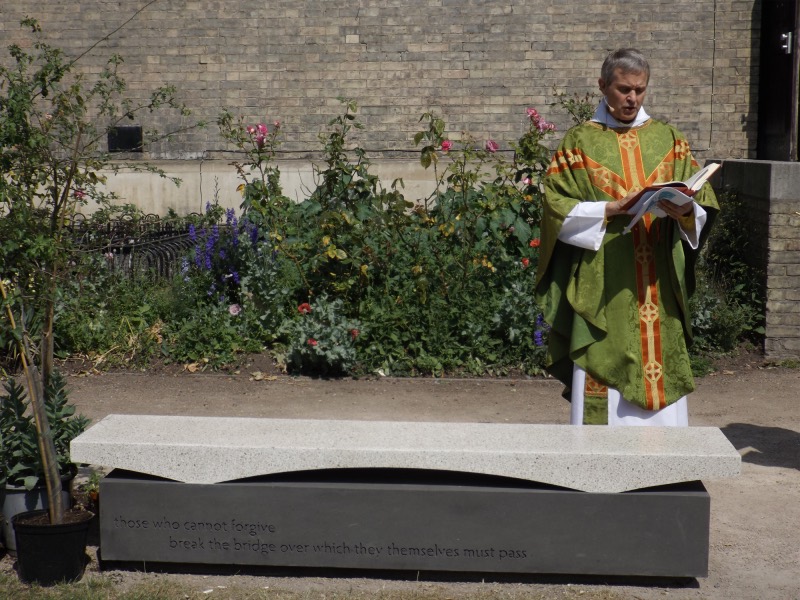 The first Waterloo Bridge was opened 200 years ago on Wednesday 18 June by the Prince Regent.
The Georgian granite bridge was to have been called the Strand Bridge but after the Battle of Waterloo victory in 1815 it had to be Waterloo Bridge. The opening, in the presence of the Duke of Wellington, was on the second anniversary of the battle..
The Times reported that "the guards wore their new pantaloons".
The bridge's 200th anniversary has been marked on the day by the dedication of a bench in the churchyard of St John's Waterloo.
The seat echoes the present crossing by Giles Gilbert Scott and has been designed by MSMR Architects, based in Waterloo's Exton Street overlooking the churchyard.
It is their contribution to the bridge bicentenary and London Festival of Architecture 2017.
The long bench was dedicated on Sunday morning 18 June by the vicar of St John's, Canon Giles Goddard, with the sprinkling of holy water before the start of the Flower Festival Sung Eucharist.
The singing of the first hymn Praise to the Lord, the almighty, the King of creation started outside with the congregation around the bench.
The Waterloo Festival continues to Sunday 25 June.