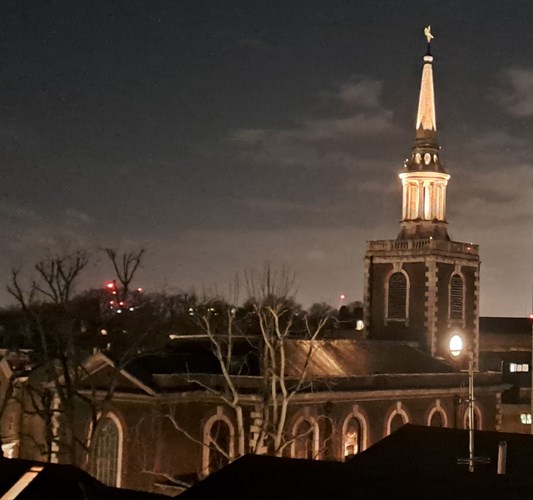 Walkers on the Thames Path over the past week at dusk have been noticing the spire on Rotherhithe Church tower lit up.
It is also being seen from some distance away including by those crossing London and Tower Bridges.
The unannounced switch-on had been long planned and is made possible by the US Embassy downstream at Nine Elms. Rotherhithe has a resonance for the USA as it was from there that the Mayflower set out for America with the Pilgrim Fathers.
The 400th anniversary was commemorated by the Speaker of the House of Commons Sir Lindsay Hoyle and the Speaker of the House of Representatives Nancy Pelosi with low key ceremonies during the pandemic.
The Christopher Jones memorial in the churchyard is also illuminated until 11pm. Jones was Master of the Mayflower and after bringing her back from America he continued to live in Rotherhithe until his death in 1622. His statue by Jamie Sargeant was commissioned to mark the 375th anniversary of the voyage to America in 1995.
An official switch-on ceremony on the riverside is expected to be announced shortly.