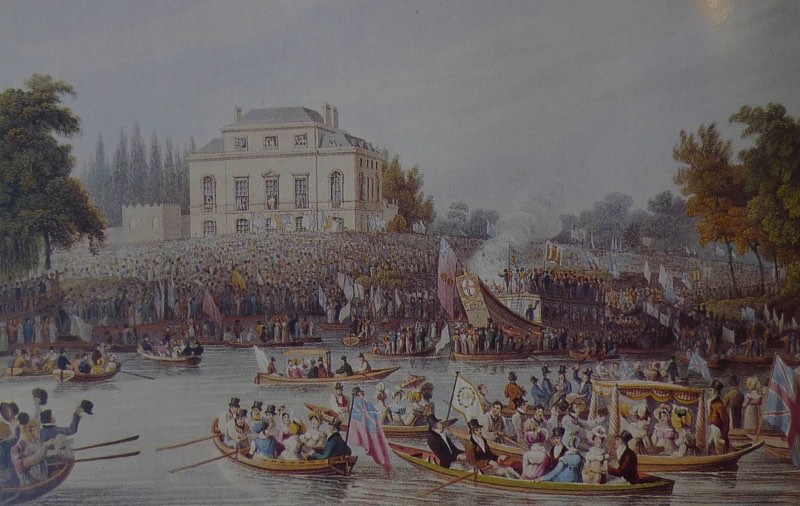 Caroline of Brunswick, wife of George IV, died 200 years ago by the River Thames.
The Queen's final home was Brandenburg House which stood in a rural setting on the edge of Hammersmith. Work on building Hammersmith Bridge was four years away.
Here Thames watermen had gathered on the river in 1820 to show support for her during failed divorce proceedings being heard in the House of Lords.
Her husband, best known as the extravagant Prince Regent, had just become King George IV. They had long been estranged but his accession caused her to return to London.
On 19 July 1821 she was refused entry to George's Coronation at Westminster Abbey. Having had the west doors slammed in her face she hurried round the back to the Poet's Corner entrance but there Gold Stick in Waiting persuaded her to go home.
That night at Hammersmith she took a large dose of milk of magnesia and became ill.
She died late on 7 August. The death was a sensation and her funeral procession had to be diverted due to crowds.
Her brick house, downstream of today's Hammersmith Bridge, had been built by Sir Nicholas Crispe in the early 17th century.
The name of the house comes from the Margrave of Brandenburg who bought the property in 1792.
He died in 1806 and his widow left for Naples in 1819. The following year her son arranged for the homeless Queen to move in.
Within six months of her death the house was sold and eventually demolished.
After 1857 the site was occupied by Hammersmith Distillery owned by Haig.
The distillery has given way to today's Fulham Reach flats (flanked by Winslow and Chancellor's Roads) opposite Harrods Wharf.