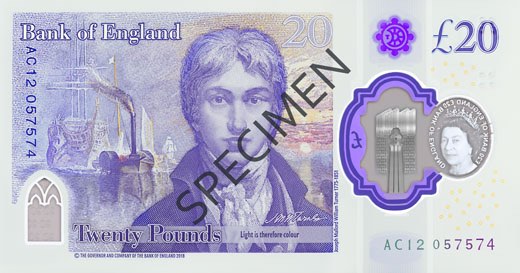 JMW Turner's painting The Fighting Temeraire is to feature on the new £20 bank note.
Confirmation of the suggestion made three years ago was given this morning at the Turner Contemporary gallery in Margate where Bank of England Governor Mark Carney announced that the note will be issued on Thursday 20 February 2020.
The painting, in the National Gallery, shows the Trafalgar ship in 1838 being towed up the Thames to be broken up at Bull Head Dock Wharf in Rotherhithe.
Turner began the painting by sketching from Cherry Garden Pier on Bermondsey Wall East near Rotherhithe.
Rotherhithe church has an altar made from Temeraire wood.
The painting was exhibited in the Royal Academy the following year.
The bank note will be the first to feature the signature of Sarah John, the Bank's first female Chief Cashier.
"The new £20 note celebrates Turner, his art and his legacy in all their radiant, colourful, evocative glory," said Mark Carney.
He was speaking a short distance from Long Nose Spit which will eventually be the start, or finish, of the Thames Path.