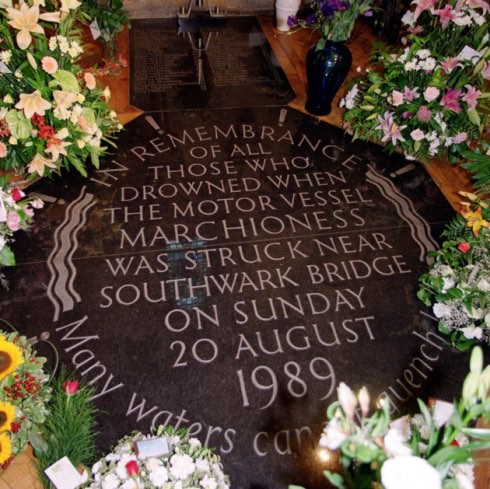 This year sees the 30th anniversary of the Marchioness Disaster on the River Thames.
In the early hours of Sunday 20 August 1989 the Marchioness pleasure boat sank in the River Thames having collided in the dark with the Bowbelle dredger. 51 people died in the water following the accident downstream of Southwark Bridge.
There will be commemorations on the anniversary of the night when the boat set out on the party cruise and on the actual anniversary date of the loss of life.
Monday evening 19 August
An open air service of remembrance led by the Bishop of Southwark will take place on the Thames Path on Monday 19 August at 8.15pm.
A procession will leave Southwark Cathedral at 8.05pm and make its way along Clink Street and past The Anchor pub to a location on Bankside between Cannon Street railway bridge and Southwark Bridge.
Those attending are invited to bring a candle in jam jar and natural petals to throw on the water.
Tuesday lunchtime 20 August
On Tuesday, the 30th anniversary of the Marchioness Disaster, the Bishop of Southwark will preside at a Memorial Eucharist in Southwark Cathedral at 12.45pm.

Flowers can be laid at the memorial at the end of the service.