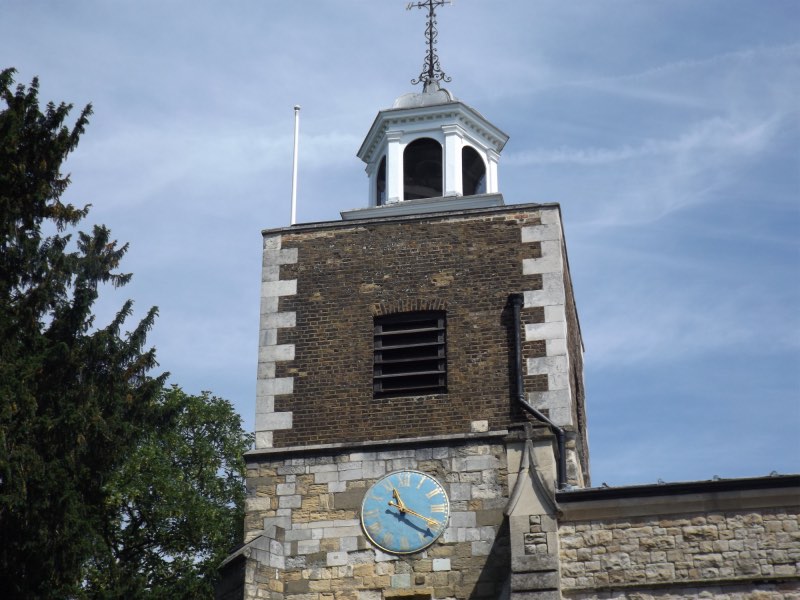 St Mary's Church in Mortlake is keeping its 475th anniversary.
The church was placed on its present site during a brief period when Henry VIII had control of the manor.
The tower is Tudor. Was it built so bells could be rung as the king was rowed past to and from Hampton Court?
The  village has long looked to the river with workshops and brewery by the water.
The great tapestries in  Hampton Court and other places across Europe were made opposite the church between 1619 and  1708.
Earlier this month the opening hymn at the church's anniversary service was: O Praise the Lord by the riverside, Where England's Thames meets London's tide. 
The Bishop of Southwark, The Rt Revd Christopher Chessun, who was presiding Tweeted the words.
The great figures associated with the church include Dr John Dee who was visited by Elizabeth I coming  downstream from Richmond Palace.
George III's prime minister Henry Addington, Lord Sidmouth, is buried in the lovely churchyard where the entrance to the earlier church has been placed.
A small history exhibition is open daily in the church this month.
On Saturday 23 June at 3pm there is  talk in church on the history of St Mary's by Helen Deaton from the Barnes & Mortlake History Society.
On Sunday 24 June teas will be available at a garden party in the churchyard from 3pm.
TO FIND THE CHURCH: From the Thames Path look out for steps going up to Tapestry Court. The church is opposite across the road behind trees.