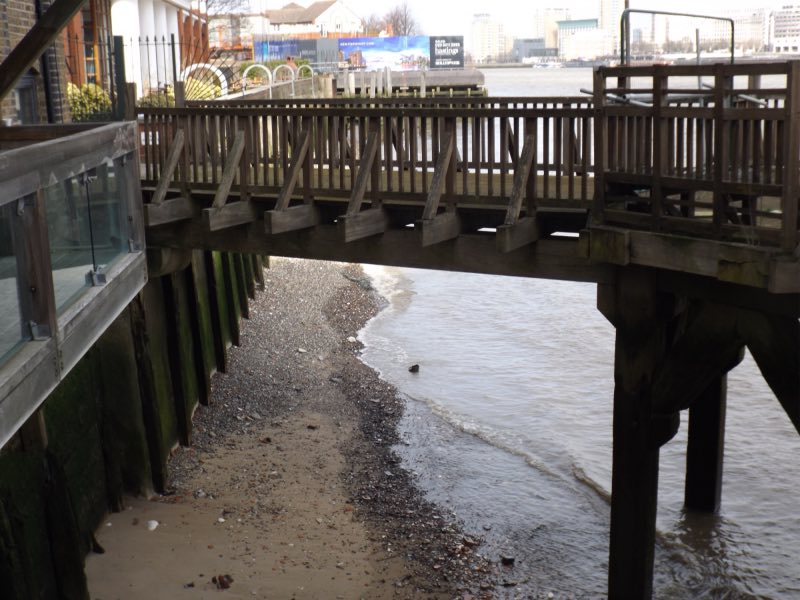 Construction work on Commercial Pier Wharf in London's Rotherhithe is a reminder that a long built but still closed section of the riverside path will shortly be opening.
The section is between Randall Rents to upstream Barnard's Wharf adjacent to Surrey Docks Farm. The path already exists on Odessa Wharf and New Caledonian Wharf.
The closed Downtown Restaurant site and Commercial Pier Wharf are now being given a path to complete the link.
After Greenland Dock, on the Rotherhithe peninsula, the Thames Path at present turns down Randall Rents to the back of The Ship & Whale before running along Odessa Street.
At a sharp bend the TP turns right off the road on to Commercial Pier Wharf.
However this is temporarily blocked by the building works.
DIVERSION
But, despite a misleading notice suggesting a road diversion, it is possible to turn right on a parallel narrow path to the works and return at once to the river at Barnard's Wharf.
Also confusing is the rebranding of Commercial Pier Wharf as New Pier Wharf.
The wharf is known for its red dockland crane which after much controversy over its condition was recently removed.