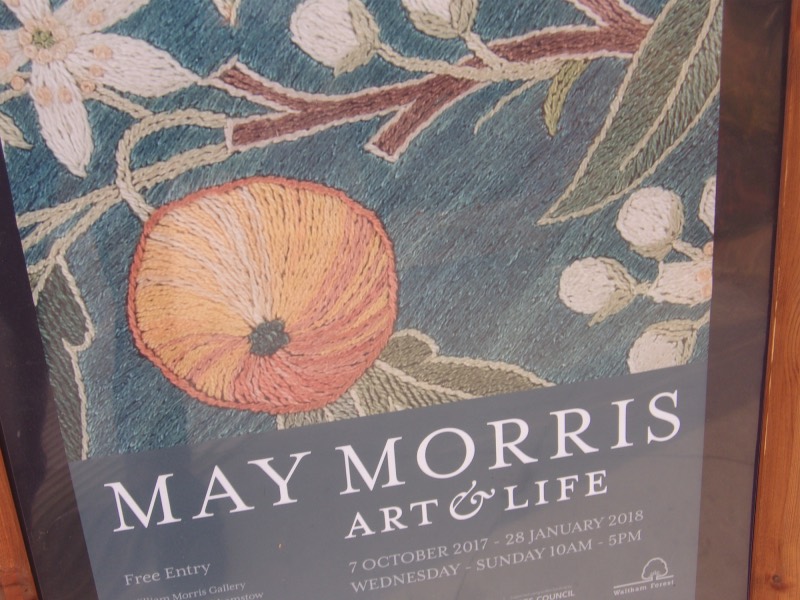 May Morris: Art & Life exhibition at the William Morris Gallery in Walthamstow gives  glimpse of her life by the Thames in London and Oxfordshire.
May was the daughter of William Morris who lived by the river at 8 Hammersmith Terrace in London and upstream at remote Kelmscott near Lechlade.
William founded the Chiswick Press which in 1903 published May's play White Lies.
Nearby on the river at Chiswick was lived Emery Walker who ran the Kelmscott Press.
May was an active supporter of the Socialist League Hammersmith branch.
But she loved Kelmscott and a long embroidery in the London house featured a view of Kelmscott in middle.
In the country she lived a frugal but self-sufficient life.
A painting shows May in the dining room at Kelmscott Manor as she checks proofs of The Collected Works of William Morris which she spent years editing.
One of the black and white photographs is of May's funeral at Kelmscott in 1938 when her body was carried on a farm cart.
The May Morris exhibition is at William Morris Gallery, Forest Road, Walthamstow E17 4PP until Sunday 28 January; open Wednesday to Sunday; admission free.
Kelmscott Manor is open in the summer.