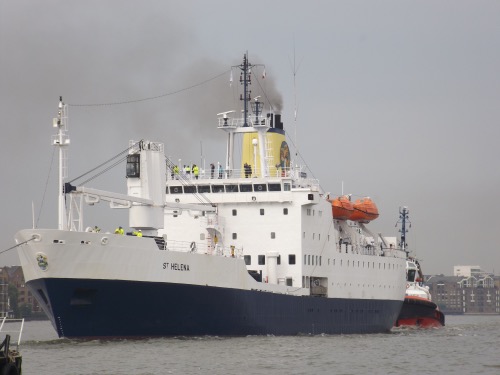 Royal Mail Ship St Helena sailed up the River Thames on Tuesday afternoon (7 June) on a farewell visit.
The ship is due to be sold and its regular Cape Town to St Helena voyages carrying the Royal Mail replaced by an aircraft.
It was exactly 4.55pm as RMS St Helena passed through Tower Bridge. Her approach from Tilbury was as the rising tide turned and the tugs manovered her slowly into the Pool of London.
A small group of people standing outside the The Angel near Rotherhithe watched the ship gradually turn into the Upper Pool.
Meanwhile a group of Saints, exiles from St Helena, waited near HMS Belfast to see their Royal Mail ship come home.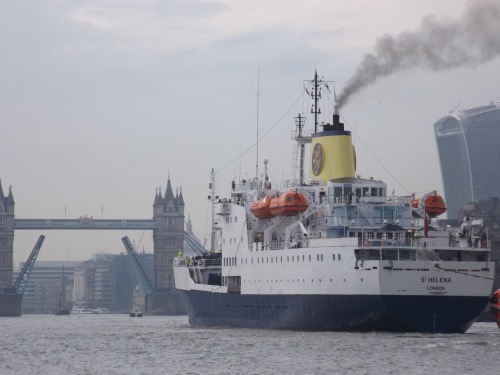 Concern about the future of the ship was raised two hours earlier upstream in the House of Lords.
International Development minister Baroness Verma was questioned by Lord Foulkes about the failure of the replacement air service. The new airport is experiencing crosswinds and no commercial aircraft has landed.
The minister said that the government was "looking at potential providers" but meanwhile the sea service would continue.
Three more return trips from Cape town are planned with the last scheduled for 9 September.
Lord Shutt said that the RMS St Helena should not be sold.
Admiral Lord West spoke of the importance of "a regular presence in waters which belong to us".
Lord Collins asked if there had been a risk assessment before the contract for building of the new airport was agreed. The minister indicated that there had been.
Princess Anne will visit RMS St Helena in the Pool of London on Wednesday.
Tower Bridge is due to lift at 5.45pm on Friday 10 June for the departure of RMS St Helena.
* The new Cicerone guide Walking The Thames Path is this month available at 25% discount and post free.