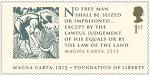 Tuesday 2 June 2015 sees the issue of a special postage stamp to mark the 800th anniversary of Magna Carta being agreed on the banks of the Thames at Runnymede.
The place to get the 'authentic' postmark, rather than the official one, must be Egham Post Office.
The stamp is issued on the 62nd anniversary of the Queen's coronation. Her Majesty will be at Runnymede on Magna Carta's actual 800th anniversary Monday 15 June.