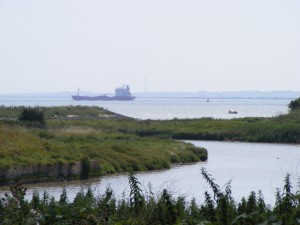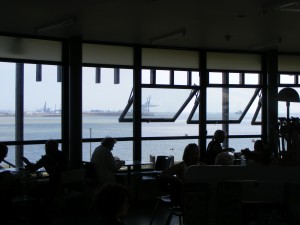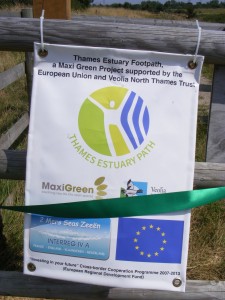 This week has seen a glimpse of the future. A ribbon across a kissing gate on Mucking Marshes was cut on Thursday marking the 'opening' of the Thames Estuary Path.
The route is about 30 miles long starting at Southend and ending at Tilbury Ferry. Two sections are awaiting confirmation and fencing.
The ceremony was on the west bank of Mucking Creek and a short walk from a new visitor centre on the Thameside Nature Park Reserve. The Cory Environmental Visitor Centre has not only toilets, a bookshop and a cafe but a flat roof allowing walkers to enjoy panoramic views down the estuary and across to Kent. The high ground of Mucking Marshes is the result of the dumping in the 20th century of London's rubbish.
Now the swooping sea gulls are out numbered by the return of other birds. This year the blackberries are ripening early.
At Mucking, the estuary path runs briefly by the shoreline before crossing Mucking Creek and heading for the redundant Mucking Church on the way to Tilbury Fort.
The Thames Estuary Path leaflet lacks detail and to me remains confusing even when read alongside an OS map. There is still a lot of work to do and the new signage needs enhancing.
But there is enough to see which raises a real possibility that the start of the Thames Path could one day be in Southend. Whatever the problems in Essex there are many more on right bank – the Kent side.
Tilbury Ferry carries you across the River Thames to Gravesend from where the Thames Path could continue upstream towards Erith. The biggest investment will be a footbridge at the mouth of the River Darent.