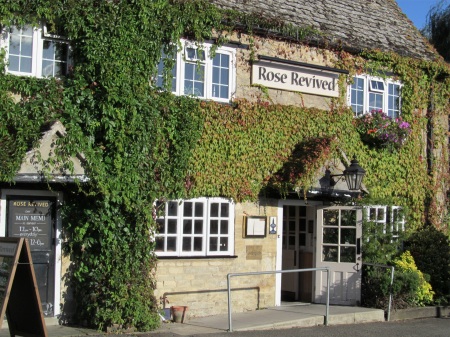 It was a delightful moment when we followed the towpath directly on to the lawn of The Rose Revived at Newbridge.
It was around 5.30pm but we were able to have cup of tea at once sitting on a sofa just inside the door.
Our room for the night was on the first floor almost above the entrance so we only just had a glimpse of the river upstream. But it was comfortable with a shower and basin. The lavatory was across the corridor.
Food is not expensive. I had broccoli soup (£3.79) and 'award-winning' hand-battered haddock and chips with peas (£8.49) which was all very filling after a day's walk.
Breakfast was at one end of the building where all guests turned out to be either walkers or boaters. On offer was cranberry juice or orange juice. I followed this by choosing museli with yoghurt and scrambled agg with smoked salmon.
One night cost just £62.50 for a double room and breakfast. This pub continues to give good value for the walker.
I was delighted to see the original sign painted by Royal Academician Alfred Parsons.
But sorry to find that The Maybush on the far side of the 13th-century Thames bridge has now been closed for some months.