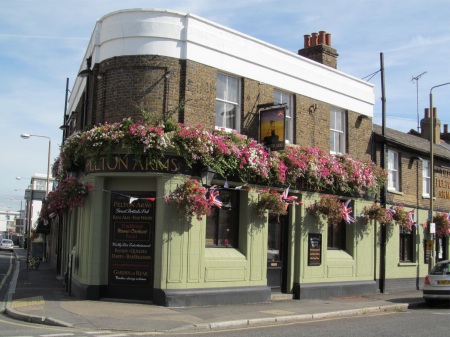 The latest Good Beer Guide edited by Roger Protz includes several essential pubs along the Thames.
As well as beer and food details there are useful pieces of history dropped into reports. The White Cross at Richmond takes its name from the convent on the riverside site. The Watermans Arms at Eton was briefly a mortuary.
The Dog & Bell on the Thames Path at Deptford is unique being an independent house.
Not far away is The Pelton Arms in Greenwich which is temporarily on the route whilst a very long term diversion is in place around Lovell's Wharf. The friendly pub has doubled as The Nag's Head in Only Fools and Horses.
Near the far end beds are available at The Crown Inn at Lechlade which serves its own Ha'penny Ale.
Also just published is the equally vital Good Pub Guide edited by Alisdair Aird and Fiona Stapley.
One of its 38 Dining Pubs of the Year is The Trout at Tadpole where Gareth and Helen Pugh are now serving afternoon tea at weekends.
If you are having tea at Tadpole you might have had lunch at The Rose Revived at Newbridge which rightly gets a mention.
It's interesting to see that both books recommend Cricklade's Red Lion.
The Watermans Arms, built by the towpath on Oxford's Osney Island in 1871, has changed its name to Punter. This seemed a pity to me but the relaunch has seen the place become maybe more friendly. There are different recycled chairs and tables and the Good Pub Guide reminds us that it has £5 lunch dishes.
I hope next year we shall see The Nag's Head on Abingdon Bridge listed in at least one the guides. It reopens next month.