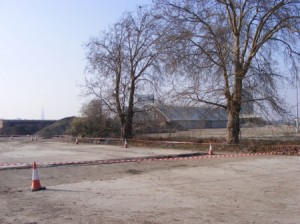 Convoys Wharf on Saturday saw a remarkable occasion.
The riverside site in Deptford is one of last wharves to still cause walkers a long detour. But this weekend a tent had been erected by the developers who were seeking local views on the redevelopment of this very large site.
The wharf, at the end of Deptford High Street, is remembered best as the landing place for rolls of newsprint paper from Sweden destined for Fleet Street.
But the site should be highlighted as the location of Henry VIII's dockyard. The open day allowed for viewing of the recently uncovered slipways and the foundations other buildings.
In later years the dockyard expanded to take over the garden of Sayes Court. Now now there are hopes that the new architect Terry Farrell will take this heritage into account in the landscaping opportunities.
The archaeological report should be fascinating.
Meanwhile it's good to be able to report that Deptford High Street still has two pie and mash shops in addition its railway carriage tearoom.