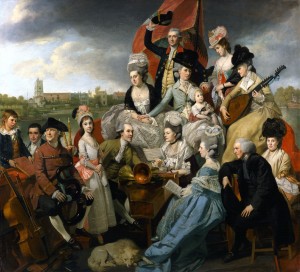 Johan Zoffany lived at Strand-on-the-Green for the last thirty years of his life so it's no surprise that the Zoffany exhibition at the Royal Academy of Arts features Thames scenes.
The star attraction is Mr and Mrs Garrick by the Shakespeare Temple at Hampton. Hampton is upstream beyond Hampton Court and today the Temple is still seen from the towpath on the right bank.
Hampton Ferry, operating for at least 500 years, is shown as a horse ferry carrying a haycart.
David Garrick was Zoffany's entry into the theatre world and in a painting of actor and dramatist Samuel Foote there is a map of the Thames hanging on the wall behind the figure.
Strand-on-the-Green is across the river from Kew Palace where George III spent a lot of time. Thanks to his prime minster Lord Bute, the King knew Zoffany and made him an early Royal Academician. King George and Queen Charlotte also gave Zoffany significant commissions.
On show are plenty of royal portraits.
A painting of the King's doctor with his musical family depicts him on a barge in front of his home next to All Saints Church in Fulham. It seems that Zoffany placed them on the line of today's Putney Bridge.
There are several self portraits of Zoffany and one painting of his wife. We are able to see how the couple looked when living in the 17th-century house near Kew although by then he was out of favour with the Royal Family. The Queen objected to Zoffany including two gay men in a painting which she had commissioned.
Zoffany used a Kew churchwarden as the model for Judas in a painting of the Last Supper. As a consequence it was never hung in St Anne's Kew Green but stayed on the left bank where it now hangs in St Paul's Brentford. Sadly the picture is not included in this exhibition.
But there is Zoffany's small portrait of Thomas Gainsborough. Both artists are buried in the churchyard of St Anne's.
Zoffany died in 1810 and this exhibition was planned for the bicentenary in 2010. It may be two years late but it's worth the wait.
Johan Zoffany RA: Society Observed is at the Royal Academy of Arts in Piccadilly from Saturday 10 March to Sunday 10 June; admission £9 (conc £7).