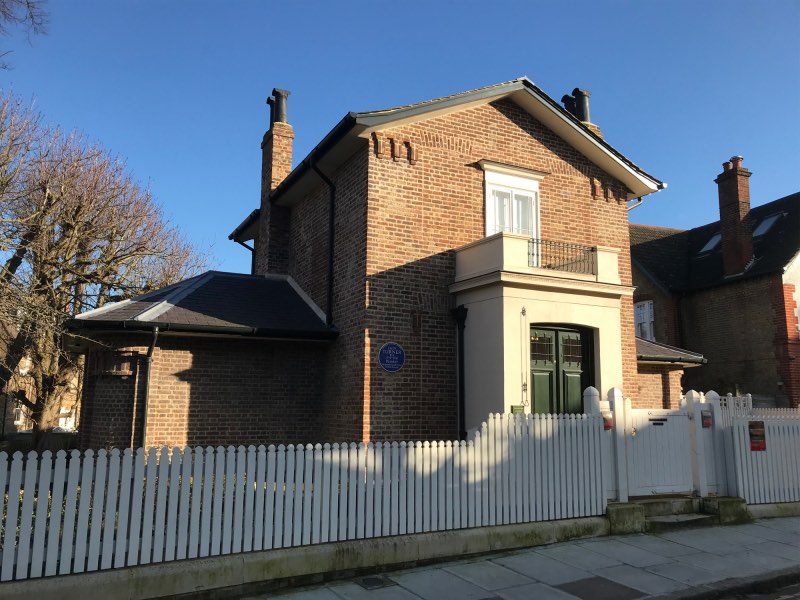 Five of JMW Turner's Thames paintings are being shown at his house for the first time.
The artist, obsessed with the River Thames and wanting to be nearby, designed and built his own house just over the bridge from Richmond. He moved in with his father in 1813.
Sandycombe Lodge is under half a mile from the river which Turner could see from his bedroom. Fish caught in the Thames were transferred to one of the two ponds in the garden.
The area, now known as St Margarets, is covered with late Victorian houses but during Turner's thirteen years there he was able to enjoy the river on two sides of the house.
He would have seen nearby Marble Hill House to the south where the only other building was The Crown inn next to his vegetable garden.
To the east he could see over the river to Richmond Hill with the houses on top where artistic rivals Sir Joshua Reynolds and Thomas Gainsborough had lived.
There was a halfpenny toll to walk across Richmond Bridge to the town.
The tiny Turner and the Thames exhibition in the tiny bedroom of Turner's father is just five tiny paintings.
They are dated 1805 which is two years before Turner purchased the land for his new house.
The oil paintings are really sketches which Turner made on mahogany boards -recycled furniture. In his Walton Reach painting some wood is left bare to covey a little reddish reflection in the water.
Turner is on the water for this painting as he is for Windsor Castle from the River although it is possible to stand on the edge of the Brocas meadow as other artists and photographers have down the decades to show the rising castle.

Sunset on the River 1805 is an example of a picture where, like Walton, one cannot be sure of the exact location even if in a boat.
Another is called The Thames near Windsor (?).
The pictures, usually in storage, are on loan from Tate Britain.
Visiting the house and seeing the bedrooms and kitchen are as rewarding as the exhibition which continues until Sunday 29 March.
Sandycombe Lodge, Turner's House, 40 Sandycombe Road, Twickenham TW1 2LR is open Wednesday to Sunday 12-3pm; admission £8 (child £3).