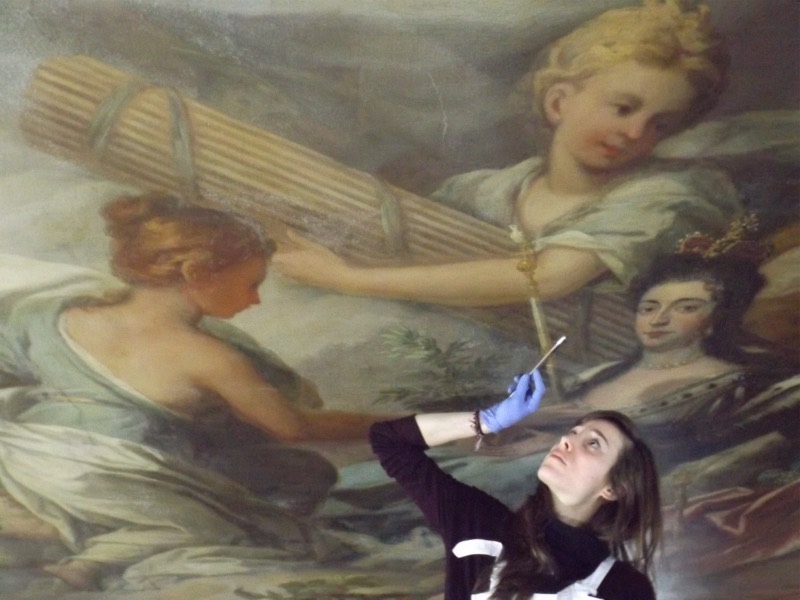 It's easy to turn into the grounds of the Old Royal Naval College at Greenwich. The gates on the Thames Path are open daylight hours.
From Saturday it will again be possible to go into the magnificent Painted Hall. Its not laid out for dinner because a £8.5m restoration is under way.
Instead a temporary platform, held up by 8,000 temporary pole fittings and just below the high roof, will allow a close up view of the ceiling painting which is being painstakingly cleaned.
This is a unique opportunity to see the painting undertaken by Sir James Thornhill three hundred years ago.
One of the restoration team says that being up so close is both "eerie and disorientating".
Thornhill completed the work called The Triumph of Peace and Liberty over Tyranny in 1714. It had taken him seven years.
Three hundred years ago this year he submitted revised designs for the upper hall, or west end higher level, which he eventually finished in 1722.
The tours are available from April 10am-5pm (last admission 4pm); £10 (child £5).  Profits go towards raising the final £2m needed. The scaffolding is expected to remain in place until late 2018.
The Painted Hall is one of the oldest tourist attractions. It was intended as the dining room for Naval pensioners but was soon only used for special occasions to allow for the growing number of visitors.