The official diversion route on the Greenwich Peninsula caused by building work has been made available by Greenwich Council.
But the one below may be better:
Update: seems that #ThamesPathDeviation looks (should look) like this. Timeframe: about 18 months. Riverwall works. pic.twitter.com/gL4NSXA44Q

— Greenwich Love (@greenwichlove) August 1, 2016
The signs, mainly intended for downstream walkers, do not correspond with the council map. Once in Blackwall Lane do you turn down Mauritius Street or Azof Street? But it does not much matter.
From the 02
When walking  south, or upstream, from the 02 (or Dome) continue as usual over Victoria Deep Water Terminal to Bay Wharf. Here the path swings inland to a  T-junction where you now have to go left:
At the main road go right. Soon you are separated from the main road by what appears to be aslip road but is Tunnel Avenue. This passes behind Morden Wharf. At a junction bear right into Blackwall.
At the Meantime Brewery go right into Mauritius Street and at the end left down Christchurch Way.
At the first crossroads it is possible to leave the official diversion by following a temporary waymark pointing right into Banning Street. Then go right at the Pelton Arms into Pelton Street.
But the official route is still ahead over the crossroads to go right at the Royal Standard into Pelton Street.
Pelton Street leads to the Thames. Bear left on to Ballast Quay.
These arrangements are expected to remain in place until at least February 2018.
Pelton Arms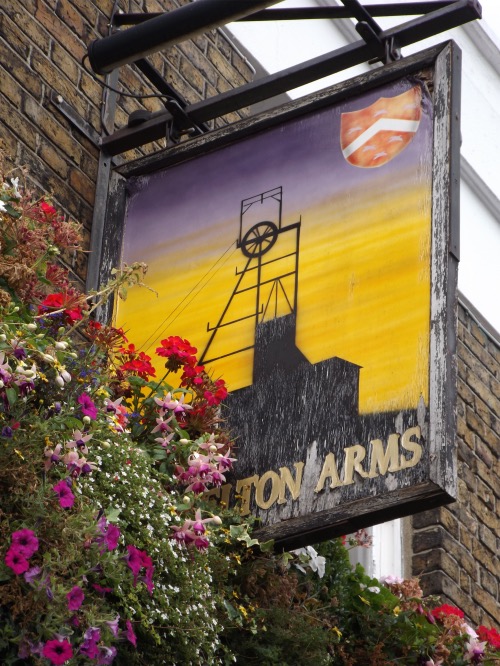 The Pelton Arms, SE London CAMRA Pub of the Year 2016, may be away from the normal riverside Thames Path but it is part of the Thames history. It was built in 1844 when coal was brought by sea from the north of England and unloaded here.
The road and pub are named after the Pelton Colliery at Chester-le-Street in County Durham which opened in 1835.
Fish and chips, burgers and Goddards' Greenwich meat pies are available at lunchtime. A three course Sunday lunch is £12.95.