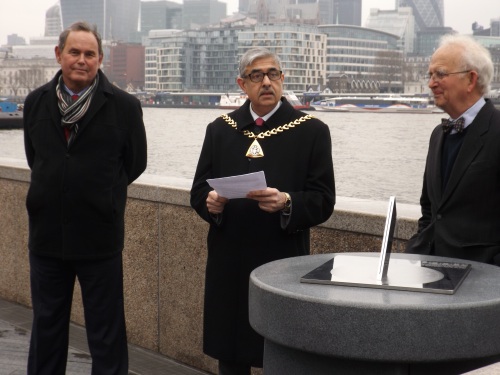 A sundial has been placed on the Thames Path across the water from the Tower of London.
The timepiece has been designed by Piers Nicholson, the son of conservationist Max Nicholson who died in 2003.
This stretch of the Thames Path in front of Potters Fields is also part of the Queen's Silver Jubilee Walkway which Her Majesty opened in Jubilee Year 1977.
The sundial commemorates both the walkway inauguration and Max Nicholson who founded the William Curtis Ecological Park, the UK's first urban ecological park, which was on the site of City Hall and the More London development from 1978 to 1983.
The Mayor of Southwark Sunil Chopra officially received the sundial on site for public enjoyment on Thursday morning.
Minutes afterwards there was a tree planting a few feet away on Potters Fields lawn to replace a diseased
tree.
In 1977 neither the riverside path nor the Thames Path existed. The Jubilee Walkway route here was via Tooley Street and the future ecological garden was a lorry park.
William Curtis (1746–1799) was a botanist who is commemorated upstream in Battersea's riverside church.