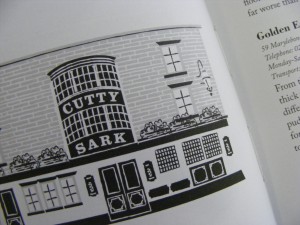 A London Pub For Every Occasion is published today May Day highlighting 161 of the capital's 7,000 pubs.
The delight of this book is not just the choices but the pictures by Anna Hurley. Her Cutty Sark pub picture shows the lovely bow window above the cobbles. Other Thames pubs mentioned are The Dog & Bell at Deptford and The Mayflower at Rotherhithe. There is even The Pelton Arms which was for a time on the Thames Path whilst riverside redevelopment took place.
A London Pub For Every Occasion is a pocket hardback edited by Ben Olins and Jane Smillie and published by Ebury Press (£9.99).